You've Bought The Water, Now Buy The Cup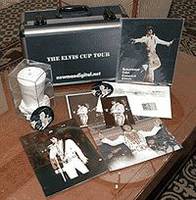 A few weeks ago Wade Jones sold a vial of water on ebay that supposedly was backwash from Elvis. Jones made $455. Now he's selling the sytrofoam cup. But this time it's for a charity in Boulder, CO.
Though now kept in a protective suitcase labeled "The Elvis Cup Tour," this relic of rock has been on one long, strange trip. According to its owner, Wade Jones, he snagged the cup after sneaking on stage and rooting through a trash bin following a Presley concert in Greensboro, North Carolina, in 1977...

On Tuesday, January 25, the polystyrene wonder will be on display at the Boulder Theater as part of Nutballz Night Out, a fundraiser for the Center for Celiac Research...

Hosted by local Elvis impersonator Charles King, the 21-and-over event includes food, a raffle, and entertainment by DJ Ivy, Jyemo & the Extended Family and others. Guests can have their pictures taken with the coveted cup for $1, while Elvis and Marilyn look-alike contests round out the evening's fun.
http://www.westword.com/issues/
2005-1-20/calendar/nd.html