Goodbye, Miss Cybelvis Monroe
It's official, or it will be on Oct. 16. Miss Cybelvis Monroe is no more. Say hello to the new Cybele.
An excellent article appeared in The Oregonian today.
"Performer Cybele sheds Monroe persona, reclaims herself" by Steve Woodward.
It caused me to remember how we first met.
I have been fortunate to know Cybele for many years. When I first started my Elvis impersonator collection, it can be seen at
the Hall of Kings
, I was searching on Google and Yahoo and any other search engine I could find. One day her website, Cybelvis.com, came up. I went there. Elvis and Marilyn Monroe, two of my favorite cultural icons together, not only in one act but also in one body.
I wrote to her immediately asking for her autograph. She wrote back, she thought my collection was hysterical and would be honored to be a part of it. She mentioned that she had only recently begun this new act. I wrote her, then she wrote me, then I returned her email, and she returned my reply. Thus a long distance friendship began. Days turned into weeks and weeks into years. We would describe each other as "the best friend I've never met", joking how the first time we'd actually meet in person would be on Oprah after she was a mega superstar.
I helped out with the act whenever I could. I wrote lyrics to some of their songs, and, let it be known that I am Norm, the official biographer of Miss Cybelvis Monroe and author of "Black Leather, Pink Scarves, And Me", the serialized biography that appeared irregularly on her official website.
She sent me clippings and their reviews, even samples of some of their give-aways, the screensavers, the rhythm shakers, and others. Unfortunately the cheese slice business card has moved on to another level of existence.
Last October the unthinkable happened. We met. She and Botielus, her partner on and off the stage, came to Wisconsin. They stayed with us and I even performed a few numbers with them, my musical debut on ukulele, at a gig at a local bar. It was one of the best evenings I had in years. It was even broadcast on cable TV in Stillwater, MN. I have a copy of the DVD. Thank god you can't hear me to well.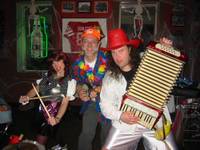 Cybele, me, and Botielus
Over the past year our emails became sporadic. Changes were occurring and I didn't know what. Bit by bit I watched her difficult transformation from a distance. I always knew of her artistic talent. Once as a birthday present she made me a small bust of Elvis fashioned out of clay but as a tiki god. It sits next to my computer today. At times, though, I was worried, especially when I first saw some of her new art. It was violent, sad, depressing, but it was good. I also knew that Botielus would care for her. He is a good guy, a kind soul, and one of the most talented musicians I have ever met. It may take some time, every new and worthwhile project does, but she will be happier because she is doing what she wants, what she is called to do.
I will always treasure my time with Miss Cybelvis Monroe, but I will treasure my friendship with Cybele even more.
Goodbye, Miss Cybelvis Monroe. Hello and welcome, Cybele.